Jaybird Tarah Wireless Sports Headphones
Jaybird's budget alternative to the flagship X4 wireless earphones shares similar performance hallmarks, at $30 less. The Tarah boasts a lively soundstage that can be personalized through different EQ settings and music profiles via Jaybird MySound app (Android, iOS). Bass-heavy records knock on your eardrums to maximize adrenaline. Bluetooth range is also in the same ballpark as most other models, maintaining connectivity up to 30 feet.
Whatever flaws exist on the Tarah are trite when taking overall performance into account. Battery life hovers around 6 hours, which is 2 hours less than what's offered on the X4. However, quick-charge technology has you covered by juicing up these suckers in a matter of minutes for an hour of playtime. The cinch system could be sturdier, but it's nothing to cry over. Simply put, these are the best cheap wireless headphones you can buy.
Rating: 4.5 stars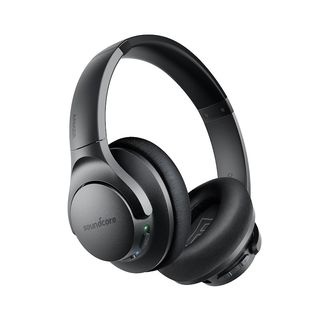 Anker Life Q20 Wireless ANC Headphones
For $60, you would be remiss to overlook Anker's latest noise-cancelling headphones, and that's just based on sound quality alone. The Life Q20 distributes some hard-hitting lows that don't drown out the midrange, depending on your music of choice; you'll hear distinct instruments in the background of orchestral-centric recordings. Up to 40 hours of playtime on a full charge (60 hours with ANC off) and strong connectivity via Bluetooth 5.0 are two other premiums that justify the purchase.
Active noise cancellation isn't Anker's specialty, but these over-ears do a reliable job of filtering out external noises. Loud traffic and train engines will go unnoticed, but neighboring sounds such as keyboard clatter and shouting co-workers won't. Listening in wired mode also hinders audio performance, so leave the aux cable at home to enjoy to music more peacefully.
Rating: 4 stars
House of Marley Positive Vibration XL
The Positive Vibration XL are capable wireless headphones that present great sound in an eco-friendly and stylish design. Like many of the brand's previous offerings, these cans demonstrate sleek craftsmanship. They feel sturdy and the wooden accents on the center of each ear cup makes them distinguishable. Sound is loud and clear, giving songs a fullness that not many over-ear models in its price range can deliver. The bundled aux cable gives bass a nice boost.
As cool as the headphones look, they are not the most comfortable. The padding on both the ear cups and headband applies unwanted pressure; it starts to hurt after an hour of listening. I wouldn't recommend using them for phone calls either, as the integrated mics struggle with speech recognition. Bluetooth can also be finnicky at times, though I noticed it more when streaming music on my MacBook Pro, not my Android devices.
Rating: 3.5 stars
Enacfire E18 True Wireless Bluetooth Earbuds
The E18 is just as capable as another popular model in its product category, the Anker Zolo Liberty+, and it's priced at $100 less. Audio quality on these wireless earbuds is really crisp, with clear mids and highs. Bass response tends to be selective depending on the music genre but plays nice with alternative rock, hip-hop and jazz. The E18's standout features include the ability to control playback and manage calls on either earpiece, as well as digital assistant commands like Google Assistant and Siri.
Unfortunately, basic controls like volume must be executed directly through your paired device,. And similar to other wireless earbuds, the E18 also switches to mono when in call mode. Battery life is shorter than advertised, with only 3 hours of music playtime, but the bundled charging case earns you an extra 15 hours, while fast-charging tech gets you up and running at 80 percent on a 30-minute charge.
Rating: 4 stars
Mpow H1 Wireless Headphones
These budget wireless headphones are the comfiest of the batch, as well as the blandest-looking. The H1 headphones rest snugly atop the head and on the ears and can be comfortably worn for long stretches. The flexible design means you can bend these headphones multiple ways without worrying about snapping them in half. Mpow advertises natural HD sound, and while I wouldn't exactly describe the sound profile that way, it is tuned to emphasize singular effects and reproduce high-pitched vocals. It's also much louder than it needs to be.
The design is uninspiring, with a two-tone palette that lacks any magnetism. These headphones' bulky form factor isn't flattering either. Call quality was OK, with conversations sounding clear on both ends. However, stepping to a distance within several feet of the maximum range (33 feet) did cause interference.
Rating: 3.5 stars
Tranya T1 Sports Wireless Earbuds
These AirPods clones might share the same design as Apple's wireless danglers, but they have a lot more under the hood that makes them an enticing and affordable alternative. For starters, the Liberty Air 2 is great for making calls, thanks to Anker's four-mic system that delivers great noise reduction. Bass has more boom than the AirPods. Anker's companion app also lets you tweak the sound profile to appease your ear. Design-wise, they feel more premium, and the bundled tips provide a more secure fit; the more expensive AirPods Pro come with tips (regular AirPods don't).
Unfortunately, like the AirPods, the Liberty Air 2's charging case is a cosmetic nightmare that draws scratches and scuffs like a magnet. The lid is also flimsy, meaning one spill to the ground will send the buds flying out. They suffer from lag as well, so you'll notice a delay when playing songs and videos.
Rating: 3.5 stars
Status Audio BT Structure
Status One has made a name for itself in the budget audio space, even impressing us with the resolute-sounding Status Audio CB-1 Studio Monitor Headphones. The BT Structure is a notable addition to its wireless catalog that delivers balanced sound and solid comfort. Its dual-driver system pumps out deep, detailed bass to help you push through intense workouts. Several ear and wing tips come bundled and work well with the integrated hooks to keep the buds in place.
However, these cheap sports wireless earbuds do have some drawbacks. The casing is chunkier than we would like for Bluetooth sports earbuds, while the no-frills design doesn't match the attractiveness of industry staples like the Beats Powerbeats3 Wireless. The stiff buttons on the control module also make it difficult to manage playback when exercising.
Rating: 3.5 stars
BeatsX Wireless In-Ear Headphones
Behind-the-neck earphones are still popular, and these Beats in-ears remain a top seller that you can snag right now for under a Benjamin. They pack great wireless performance and reliable sonics into a lightweight, minimalist design. Apple's W1 chip instantly pairs the headphones to your iPhone and strengthens connectivity to enjoy drop-free calls and smooth media streaming. Battery life is listed at 8 hours on a full charge; 5-minute Fast Fuel charging gets you two hours of playback.
While improvements were made to enhance the Beats X's sound profile, it still lacks detail. Background instruments and vocals are often masked behind powerful lows. The soundstage also favors bass-heavy genres like EDM, hip-hop and rock, which is disappointing for those wanting to expand their musical palate.
Rating: 3 stars
Mpow 059 Bluetooth Headphones
Mpow makes no qualms about copying the Beats silhouette, though it could have put more effort into engineering a reliably functional headset. The Mpow 059 proved to be buggy at times, with music cutting out on occasion and the centralized multifunctional button failing to respond correctly to commands like play/pause music and power on/off. Call quality didn't win over any of my friends, either, with conversations sounding hollow on the opposite end.
All flaws aside, the 059 remains an adequate pair of over-ear headphones, with decent sound and pleasing aesthetics. These affordable wireless headphones have a bright soundstage, plus they handle songs that use left and right channels surprisingly well. Bluetooth was another bright spot for the headphones, as they maintained a strong connection throughout my apartment. The soft-cushioned headband and ear cups did make for a snug fit, but the hefty frame weighed me down when I was traveling.
Rating: 3 stars
Altigo Wireless Active Noise Cancelling Over-Ear Headphones (2.5 stars)
If you want a pair of over-the-ear fitness headphones made to endure the toughest workouts –without breaking the bank – JLab has you covered. The all-new Flex Sport combines modular features with pliable aesthetics for a custom sport fit. The flexible headband is sturdy, plus it supports two tension bands that improve stability and provide three fitting preferences: loose, normal, or tight. The moisture-wicking earpads, which can be hand-washed, keep your ears cool and free of sweat.
The soundstage on the Flex Sport isn't as warm as on other headphones and requires turning on one of the three EQ Modes – Balanced, Bass Boost, and Signature – to clean up the lows and mids. Bass Boost becomes essential for songs with heavy bass content. In addition, the programmed Ambient mode is only effective when listening at high volumes and mostly picks up high frequencies, meaning you'll barely notice conversations happening right next to you.
Rating: 3 stars
Helm Audio True Wireless Headphones
This true wireless solution has more going for it than just a distinctive design. Helm Audio's bass-forward sound signature is energetic and produces solid reverberation that enlivens hip-hop and rock songs. Highs are present, although they lack detail on orchestral-heavy productions. Call quality is also decent for phone calls and Facetime sessions.
Design and sound can only warrant a brand so many cool points and Helm Audio loses a few due to some notable shortcomings. The bulky charging case with plastic lid takes away from the buds' contemporary look, and it is frustrating to open. The integrated ear fins feel stiff and provide a terrible fit for small ears. While this version operates on Bluetooth 4.1, which performs decently, it suffers from pairing issues with MacOS and automatically disconnects from devices within 2 minutes of inactivity. There is an updated version with Bluetooth 5.0 available for an extra $55.
Rating: 3 stars
Cowin E7 Pro Active Noise Cancelling Headphones
Despite some design flaws and operational issues, the E7 Pro stands out as a reasonably-priced pair of over-ears that do an admirable job of neutralizing noise. They're capable of drowning out nearby conversations and loud TVs, but not much else. The real value of these affordable wireless headphones comes from the laudable soundstage, which promotes booming lows and decent mids for quality listening. Using the bundled auxiliary cable slightly improves audio output.
Unfortunately, that's where the highlights end for the E7 Pro. The control panel is poorly designed with rickety buttons that require extra pressure to register commands. Audio dropout tends to occur when in noise-cancelling mode. In addition, the brushed metal finish on the earcups looks nowhere near as premium as what's shown in the ads.
Rating: 2.5 stars
iJoy Logo Stealth Wireless Headphones
The iJoy Logo headphones tend to get more wrong than right but still delivered a decent listening experience minus some futile features. Sound quality was OK at best. Mids were hit or miss depending on the vocal range of certain songs, while bass performed better than average. The packaged aux-in cable bumps up clarity and volume, though I found the lows were better in wireless mode.
It's the cheapest model on this list, and its flimsy, no-frills design fits that bill. The Logo feels cheap, which never bodes well for comfort. The cushioning on the ear pads and headband was so flat that I felt pressure against my ears within 30 minutes of starting to listen. I recommend avoiding the built-in EQ and FM modes, because both are poorly programmed and blast distorted sound that can damage your hearing.
Rating: 2 stars
Mpow Flame Bluetooth Headphones
While the Mpow Flame is listed as an Amazon best seller, I strongly urge consumers to pass on it. Mpow clearly designed the Flame for sport and nothing more. The headphones are incredibly light and come IPX7-rated, so they're sweat-proof and waterproof to guarantee longer shelf life for people who sweat excessively. A carry case with multiple ear tips is also packed into the box. However, the hooks aren't as supportive as on other fitness earphones, which created looseness and had the headphones flopping around during cardio exercises.
Functionality and audio performance fared much worse. The multipurpose button was unresponsive most of the time. More upsetting was the sound profile, with its muddled lows making vocals unclear at all volume levels. Mids and lows were also nonexistent. Call quality was just as bad, with vocals sounding unclear on both ends.
Rating: 2 stars